上海办事处
中国上海市杨浦区唐山路1188弄
15-203号
电话:86 21 35013958
传真:86 21 33817303
邮编:200092
Arrow techno株式会社
日本东京涩谷区涩谷3丁目17番1号
电话:81 03 54660381
传真:81 03 54660385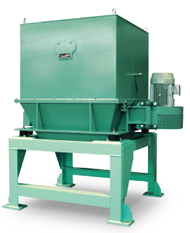 Is there any problem regarding cutting oil, materials recovery and especially with aluminum recovery? Our centrifugal separator has achieved high de-oiling rate by our unique development. The high de-oiling rate is due to this unique mechanism by adopting the differential reducer. The wing is set in the internal basket to facilitate smooth removal of these chips by the speed difference. There is no clogging by the chips when the longitudinal slit shaped SUS made wedge wire screen is used. Also, the supplies of chips that tend to be unstable are to be handled automatically by the dynamic balance function, and chips supplied from the upper hopper are to be removed from bottom shot and it is a continuous operation. The casing is a compact centrifugal separator that suppresses vibration and noise, and does maintenance with ease as it has adopted the welding frame.
1 Achieve high de-oiling rate by differential reducer method.
2 Prevent clogging with SUS wedge wire screen.
3 Maintenance is easy with casing frame structure.
·

SUS wedge wire screen is adopted to prevent clogging.


·

Above 98% of de-oil rate is maintained by adopting the wing basket (* our set-up conditions)


·

Automatic restoration of an unbalanced amount of chips supply by the dynamic balance.


·

Simple maintenance free design.


·

The noise and the vibration are controlled with the balanced mechanism.