Shanghai Office
Tangshan Road, Yangpu District, Shanghai, China, Lane 1188 No. 15-203
Tel: 86-21-35013958
Fax: 86-21-33817303
Zip Code: 200092
Arrow techno
Co., Ltd.
Shibuya Ward
, Tokyo, Japan
Shibuya
3-chome
17,
No. 1
Fan
Phone:
81-03-54660381
Fax:
81-03-54660385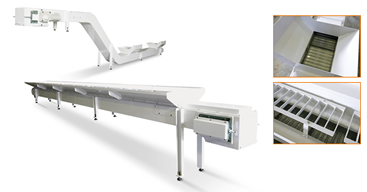 This is an easy to install general-purpose conveyor which is appropriate for relay conveyance.
It is multi-purpose, and not necessary to chose types, materials, or shapes of chips.
The two types are available; the scrapper type and the hinged belt type. The inclined angles can be set arbitrarily (MAX70 °) and can be installed with ease.

1 Multi-purpose versatile conveyor
2 Two types, the scrapper type and hinged belt type are set.
3 Maintenance free and easy to install
| | |
| --- | --- |
| | Attributes |
The scrapper type is ideally suited to recover short chips while scratching the same. The scrapper is connected with chain attachments on both sides of the casing, and the bottom/ lower surface of the casing is run in a right-angled direction.
This is a compact type conveyor which conveys chips while scratching.
This machine is suitable for carrying relatively short chips. Easy to maintain. The steep and right-angled conveyance is possible.
The hinged belt type is the most standard conveyor which connects the steel plates, and does rotational running. The press processing is applied to the steel plate matching with the chain pitch. These plates are made to belt and connected though the shaft.
The belt is connected according to the machine length, and it keeps rotating, running and transporting. An accurate press processing is given to the hinged pan, and jamming of chips is prevented by minimizing the gap of joined parts.
It is possible to convey versatile and all chips. It is relatively adaptable in small machine lengths and in relay conveyance applications. Vertical transport till 70°is possible.