Shanghai Office
Tangshan Road, Yangpu District, Shanghai, China, Lane 1188 No. 15-203
Tel: 86-21-35013958
Fax: 86-21-33817303
Zip Code: 200092
Arrow techno
Co., Ltd.
Shibuya Ward
, Tokyo, Japan
Shibuya
3-chome
17,
No. 1
Fan
Phone:
81-03-54660381
Fax:
81-03-54660385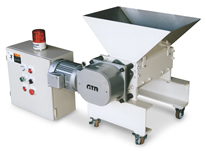 Although chips wrap around the shaft, they release out on the reverse movement, since it operates repeatedly in the left rotation/ right rotation. In addition, a difficult to rotate inclusion wing is adopted in the hopper.
The maintenance also is not time consuming since the structure is simple.

1 Chips are certainly crushed with right and left rotation.
2 The inclusion wing which is difficult for idle rotation is adopted in the hopper.
3 Simple maintenance free structure
| | |
| --- | --- |
| | Attributes |
·Left and right rotatable crushing capability, with no loss of time
·Long chips can not be extracted without cutting them off.
·The cutting edge of the rotating blade remains undamaged even when work objects(ワーク)and small materials are mixed.
·It is a bridgeless inclusion wing function though a large volume of chips is inserted. (* The inclusion wing function is optional).