Shanghai Office
Tangshan Road, Yangpu District, Shanghai, China, Lane 1188 No. 15-203
Tel: 86-21-35013958
Fax: 86-21-33817303
Zip Code: 200092
Arrow techno
Co., Ltd.
Shibuya Ward
, Tokyo, Japan
Shibuya
3-chome
17,
No. 1
Fan
Phone:
81-03-54660381
Fax:
81-03-54660385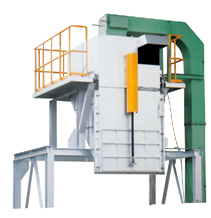 Chip hopper device is a prerequisite for environmental protection to reduce the consumption of plant proprietary space and the storage of scattered chips covered in oil.
This hopper stores separately recovered chips, and can collect and load the same such as on the tracks etc. when a certain amount accumulates.
That time, the opening-closing of gate becomes possible in one touch. It also supports the storage of long/ curls chips and, the bridge might not happen when the gate opens and closes.
The sliding type gate operates either by electric motor or air cylinder drive. Generally, the roof as prevention from rain, landing space for inspection and the stairs etc. are provided, since the hopper is installed at outdoor locations. The capacity and the number of tanks are placed in accordance with demand.

1 Gate opening-closing in one touch operation
2 Storage capacity detection by weight down method
3 Also supports in the storage of long chips
| | |
| --- | --- |
| | Attributes |
Storage capacity detection uses a weight down method by compressing the coil spring.
The control is auto-detected by limit switch. Even when long chips are stored, they can be extracted smoothly without bridge is standing in case of gate opening or closing.
The capacity and the number of tanks can be designed and produced according to customer's need.