Shanghai Office
Tangshan Road, Yangpu District, Shanghai, China, Lane 1188 No. 15-203
Tel: 86-21-35013958
Fax: 86-21-33817303
Zip Code: 200092
Arrow techno
Co., Ltd.
Shibuya Ward
, Tokyo, Japan
Shibuya
3-chome
17,
No. 1
Fan
Phone:
81-03-54660381
Fax:
81-03-54660385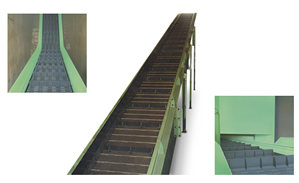 Smooth conveyance of scrap is necessary for press automation.
But, is effort being put with regard to jamming in Apron conveyor?
Arrow Techno made the best use of gathered technologies concerning with chip conveyors for many years, and this problem is solved. The scrap conveyor, adopts a dimple processed hinged pan to prevent such as jamming of scraps in the folded portions of the parts, and do not let the breakdown and the production line stop happen. In addition, the dimple processing of hinge also prevents inclusion even for those scraps to which oil with high viscosity adheres. The drain pan in the bottom recovers the separated oil to prevent stagnation. The frequent breakdown of scrap conveyors is prevented by obstructing the mixing of scrap contamination to the roller chain.

1 The accurate pressing is with maximum 0.3mm of the belt gap.
2 The dimple processing completely extracts the scrap which contains oil.
3 Frame and casing structure to facilitate maintenance
| | |
| --- | --- |
| | Attributes |
·

The dimple processing is given to the hinged belt, and also the scrap contains oil is completely extracted.


·

It guards by the side plates as given in the protective measures of the roller chain, and the gap between roller guides is 1mm or less.


·

The main body of the conveyor is frame type which is maintained with ease. The lower drain pan has enough oil provision.